Bird Details
Owls

Northern Pygmy-Owl
Glaucidium gnoma

copyright Herbert Clarke
Length: 7 in. (17 cm)
Active day and night in dense coniferous and broad-leafed forests, this small owl preys on rodents, small birds and sometimes insects. It often sits on exposed branches and snags and attracts mobs of small birds that hassle it continually during the day. The nest cavity is high in a tree, and adults often rest in the cavity as well. The four-digit banding code is NOPO.
Male
copyright Herbert Clarke
Female
copyright Oliver Niehuis

Fir forest

Oak-pine woodland

Riparian / River forest
view small images | view large images | view zoomed images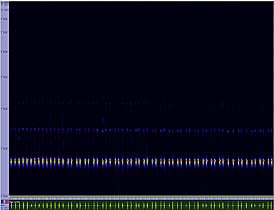 Male
Hooting (sound type)
Bird Call