Bird Details
Owls

Whip-poor-will
Caprimulgus vociferus

copyright Brian Small
Length: 10 in. (28 cm)
Seen only rarely during the daytime when it hides camouflaged against the leaf litter or a tree branch, this nocturnal bird is also hard to see at night time. Only its continuously repeated song lets you know how common it is. The nest is a scrape in the leaf litter in a forest opening. The diet is insects, especially moths, which are caught in mid air as the Whip-poor-will swoops low over forest clearings. The population in the west is considered a separate species by some experts, the Mexican Whip-poor-will. The four-digit banding code is WPWI.

Fir forest

Oak-pine woodland
view small images | view large images | view zoomed images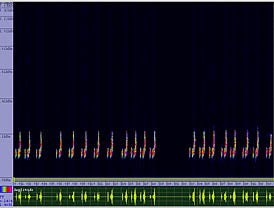 Male
Buzzing (sound type)
Bird Call