Bird Details
Perching

Green-tailed Towhee
Pipilo chlorurus

copyright Richard P. Dunbar
Length: 7 in. (18 cm)
A denizen of thick shrubby undergrowth, the Green-tailed Towhee is most noticeable when it is noisily scratching in dry leaf litter with both feet to expose insects and seeds on the ground underneath. Its song is highly variable as it incorporates portions of other bird species singing nearby. Breeding higher in the mountains than where it winters, the nest is hidden at the base of a bush and is large with grass, twigs and stems the main construction materials. The four-digit banding code is GTTO.

Chaparral

Riparian / River forest

Shrubs

Urban city

Agricultural

Savanna

Mesquite bosque
view small images | view large images | view zoomed images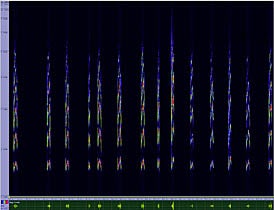 Male
Chirping (sound type)
Bird Call