Bird Details
Perching

Bell's Vireo
Vireo bellii

copyright Herbert Clarke
Length: 5 in. (12 cm)
Rarely venturing from the dense undergrowth of bushes and short trees along steams and moist areas, you will hear 20 Bell's Vireos for every one you see. During the breeding season it gleans insects from the bottoms of leaves and vegetation, but in the Fall and Winter, it relies heavily on fruits. The deep nest hangs suspended in the fork of small branches and is made up of dead leaves and bark and held together with spider webbing. The population that nests in southwestern California is in serious decline due to destruction of the riverine (riparian) habitats it depends on. The four-digit banding code is BEVI.
Male
copyright Herbert Clarke

Riparian / River forest

Mesquite bosque
view small images | view large images | view zoomed images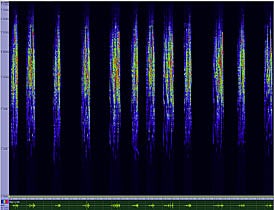 Male
Buzzing (sound type)
Bird Call


Male
Buzzing (sound type)
Bird Call