Bird Details
Perching

Cassin's Vireo
Vireo cassinii

copyright Herbert Clarke
Length: 6 in. (14 cm)
Occurring in the tops of mixed deciduous and coniferous forests, the Cassin's Vireo is most easily located by its persistent song. Its cup-like nest is suspended in the fork of a small branch and made of grass and lichens. Insects make up most of the diet, but in mid-winter some fruits are eaten. The four-digit banding code is CAVI.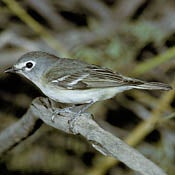 Male
copyright Herbert Clarke
Female
copyright Oliver Niehuis

Chaparral

Fir forest

Oak-pine woodland

Riparian / River forest

Mesquite bosque
view small images | view large images | view zoomed images

Male
Buzzing (sound type)
Bird Call