Bird Details
Perching

Gray Vireo
Vireo vicinior

copyright Herbert Clarke
Length: 6 in. (14 cm)
A nondescript bird, the Gary Vireo is best identified by its song and its breeding habitat, mixed chaparral bushes and scattered juniper trees in foothill mountains. It feeds on insects, and the cup-shaped nest is suspended in the fork of a small branch. Brown-headed Cowbirds frequently lay an egg in this vireo's nest. The four-digit banding code is GRVI.
Male
copyright Herbert Clarke
Female
copyright Jim Burns

Chaparral

Shrubs
view small images | view large images | view zoomed images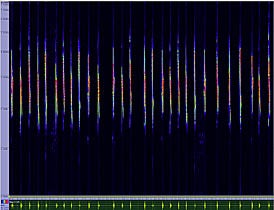 Male
Buzzing (sound type)
Bird Call


Male
Buzzing (sound type)
Bird Call