Bird Details
Perching

Plumbeous Vireo
Vireo plumbeus

copyright Herbert Clarke
Length: 6 in. (15 cm)
Wintering in riparian forest and summering in dry open coniferous forest at higher altitudes, this vireo is hard to find as it gleans insects from vegetation at mid to high levels in the canopy. It frequently joins large mixed species foraging flocks of titmice, kinglets and warblers. The nest is cup-like and suspended in the fork of a small branch at mid level in the trees. This species is regularly parasitized by both Brown-headed Cowbirds and Bronzed Cowbirds, sometimes with eggs of both cowbirds in the same vireo nest. The four-digit banding code is PLVI.
Male
copyright Herbert Clarke

Fir forest

Oak-pine woodland

Riparian / River forest
view small images | view large images | view zoomed images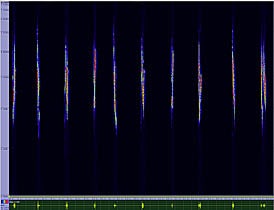 Male
Buzzing (sound type)
Bird Call

There are no sonograms saved for this bird.