Bird Details
Perching

Lark Bunting
Calamospiza melanocorys

copyright Herbert Clarke
Length: 7 in. (18 cm)
On the breeding grounds of open fields and prairies, the male is conspicuous as it gives its flight song high in the air and descends in a great flutter of wings. The grass nest is hidden on the ground under grass bunches. Food in the summer is largely insects. During the winter this species forms large and obvious flocks in open fields where they feed on seeds. The males look like females during the winter. The four-digit banding code is LARB.
Male
copyright Herbert Clarke
Female
copyright Jim Burns
No Habitats have been saved for this bird.
view small images | view large images | view zoomed images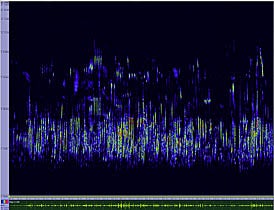 Male
Twittering (sound type)
Bird Call