Bird Details
Perching

Bridled Titmouse
Baeolophus wollweberi

copyright Herbert Clarke
Length: 5 in. (13 cm)
Conspicuous and noisy, the Bridled Titmouse is a common species in pine-oak woodlands and riparian areas of the southwest. Small family groups often become the nucleus around which many other species form mixed foraging parties in the middle and upper levels of the forest. It feeds mainly on insects gleaned from leaves and vegetation. The nest is in a natural tree cavity. The four-digit banding code is BRTI.
Male
copyright Herbert Clarke

Oak-pine woodland

Riparian / River forest
view small images | view large images | view zoomed images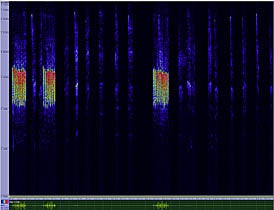 Male
Trilling (sound type)
Bird Call


Male
Trilling (sound type)
Bird Call