Bird Details
Perching

Juniper Titmouse
Baeolophus ridgwayi

copyright Robert Shantz
Length: 6 in. (15 cm)
Restricted to open chaparral and juniper habitats, this species often joins small foraging flocks of sparrows and juncoes. It nests in tree cavities and eats both fruits and insects, which are gleaned off leaves and other vegetation. The four-digit banding code is JUTI.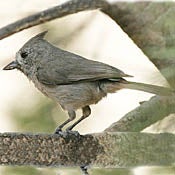 Female
copyright Robert Shantz

Chaparral

Shrubs
view small images | view large images | view zoomed images

Male
Trilling (sound type)
Bird Call