Bird Details
Perching

Scott's Oriole
Icterus parisorum

copyright Robert Shantz
Length: 9 in. (23 cm)
An obvious and beautiful occupant of open yucca and juniper grasslands, this oriole will also enter riparian forest. It eats insects and fruit, but it also fond of flower nectar. Thus it is relatively easy to attract to hummingbird feeders. The nest is a long hanging structure woven from yucca fibers and grass. It is usually placed high in an isolated tree or palm. The four-digit banding code is SCOR.
Female
copyright Jim Burns

Chaparral

Desert

Riparian / River forest

Shrubs
view small images | view large images | view zoomed images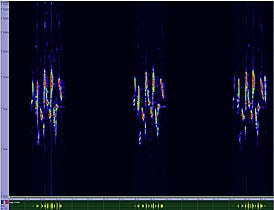 Male
Buzzing (sound type)
Bird Call


Male
Buzzing (sound type)
Bird Call