Bird Details
Perching

Marsh Wren
Cistothorus palustris

copyright Herbert Clarke
Length: 5 in. (3 cm)
This wren spends all of its life in reeds and aquatic vegetation of marshy areas. Males often have multiple mates, and the nest is a rounded ball attached to reeds and made of grasses. Food consists of insects and commonly the eggs of other bird species nesting in the marsh. During the winter, the nests are used as roosts for the adults. A single male has been recorded singing more than 200 different types of songs. The four-digit banding code is MAWR.
Male
copyright Herbert Clarke
Female
copyright Robert Shantz

Marsh / swamp
view small images | view large images | view zoomed images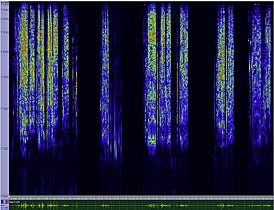 Male
Chirping (sound type)
Bird Call