Bird Details
Hawk Like

Common Nighthawk
Chordeiles minor

copyright Herbert Clarke
Length: 10 in. (24 cm)
Most conspicuous at dusk when it hawks high over head for flying insects, this nighthawk occurs in open areas, such as fields, savannas and commonly city centers. The nest is a scrape in the soil surface, and occasionally on a flat, textured roof top. The Common Nighthawk winters in South America. The four-digit banding code is CONI.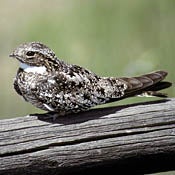 Male
copyright Herbert Clarke

Shrubs

Savanna
view small images | view large images | view zoomed images

Male
Buzzing (sound type)
Bird Call