Bird Details
Duck Like
Common Moorhen
Gallinula chloropus

copyright Herbert Clarke
Length: 13 in. (33 cm)
One of the most widespread species in the world, the Common Moorhen occurs not only in North America but also South America, Eurasia and Africa. It swims duck-like but constantly bobbing its head while moving. This relative of the rails occupies freshwater marshes and ponds with cattails and other aquatic vegetation. The nest is located on a shallow platform of dead cattails, rushes, and other marsh plants, usually a few inches above water level. Young of the first brood help raise young of the following broods. They eat small insects, tadpoles, fruits, and seeds, and their long toes enable them to both swim in water or walk on floating marsh vegetation. Males often build several nests on the pair's territory, and in the non-breeding season, they use these extra nests as places to spend the night. The four-digit banding code is COMO.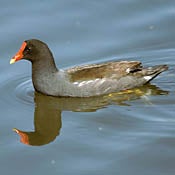 Male
copyright Herbert Clarke

Open water

Marsh / swamp
view small images | view large images | view zoomed images

Male
Buzzing (sound type)
Bird Call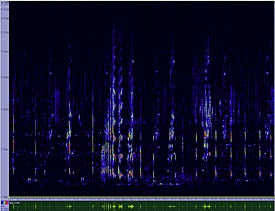 Male
Buzzing (sound type)
Bird Call