Bird Details
Perching

Ash-throated Flycatcher
Myiarchus cinerascens

copyright Robert Shantz
Length: 9 in. (22 cm)
Common in scrubby forests of dry areas and lower foothills, the Ash-throated Flycatcher eats insects it catches with its broad bill in mid-air. In the fall and winter, it also eats fruits. The nest is in a hole of a tree, Saguaro Cactus or fence post, and occasionally the adults add a cast snake skin to its lining of fur and feathers. It has been known to drive woodpeckers from their holes to take over a cavity. The four-digit banding code is ATFL.
Female
copyright Robert Shantz

Chaparral

Desert

Oak-pine woodland

Shrubs

Savanna
view small images | view large images | view zoomed images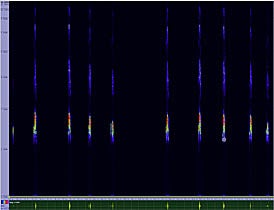 Male
Twittering (sound type)
Bird Song

There are no sonograms saved for this bird.