Bird Details
Perching

Lawrence's Goldfinch
Spinus lawrencei

copyright Doug Backlund
Length: 5 in. (12 cm)
Typically found in oak and streamside vegetation, this goldfinch is highly nomadic and can be found in a wide variety of lowland habitats. Apparently annual differences in rainfall can contribute to wide winter invasions and nesting well outside its normal range. Its food consists of a range of grass and shrub seeds and during nesting, a few insects. The nest is a small cup-shaped affair made of grass, flowers and hair. It is placed in a low shrub, often in loose association with other nests of Lawrence's Goldfinches. The four-digit banding code is LAGO.
Female
copyright Richard Ditch
Female
copyright CJ Kazilek

Riparian / River forest

Shrubs

Savanna
view small images | view large images | view zoomed images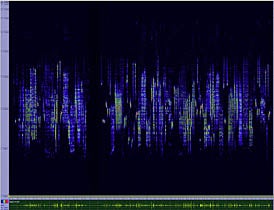 Male
Twittering (sound type)
Bird Song