Bird Details
Perching

Black-chinned Sparrow
Spizella atrogularis

copyright Herbert Clarke
Length: 6 in. (15 cm)
A bird of open chaparral bushes and junipers, the Black-chinned Sparrow nests on foothill slopes. Its nest is found low in a dense shrub and is made of grass. During the winter this species often descends into flatter areas of high deserts and joins mixed species flocks of other sparrow species. It feed mainly on seeds on the ground but switches to insects when feeding its young. The four-digit banding code is BCSP.
Male
copyright Herbert Clarke
Female
copyright Robert Shantz

Chaparral

Desert

Shrubs
view small images | view large images | view zoomed images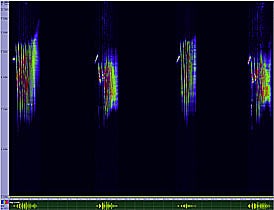 Male
Chirping (sound type)
Bird Call