Bird Details
Perching

Western Bluebird
Sialia mexicana

copyright Oliver Niehuis
Length: 7 in. (18 cm)
Pairs or small flocks of this bluebird species are common throughout open habitats with scattered trees, forest edge, agricultural fields and riparian areas. The cavity nest is in a tree or nest box, and the cavity floor is lined with grass, pine needles, twigs, hair and feathers. Insects make up a large part of the diet, especially when feeding young, and the insects are often captured in the air low over the ground. Berries are a major food in the winter. The four-digit banding code is WEBL.
Male
copyright Oliver Niehuis
Female
copyright Oliver Niehuis

Fir forest

Shrubs

Agricultural

Savanna
view small images | view large images | view zoomed images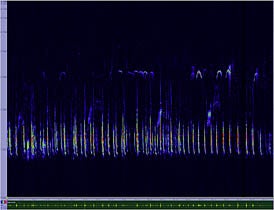 Male
Twittering (sound type)
Bird Call