Bird Details
Perching

Bewick's Wren
Thryomanes bewickii

copyright Scott Streit
Length: 5 in. (13 cm)
With the long tail cocked up over it back, this noisy wren is obvious in bushy undergrowth and shrubby areas. It makes its nest in a low tree hole or other cavity and occasionally in the dark recesses of old buildings. It feeds almost exclusively on insects and spiders that it takes from leaves and vegetation. The song of the male varies tremendously across its range. East of the Mississippi River its populations are declining noticeably. The four-digit banding code is BEWR.

Chaparral

Desert

Oak-pine woodland

Riparian / River forest

Shrubs

Savanna

Mesquite bosque
view small images | view large images | view zoomed images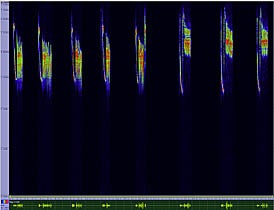 Male
Trilling (sound type)
Bird Call


Male
Trilling (sound type)
Bird Call