Bird Details
Perching

Pinyon Jay
Gymnorhinus cyanocephalus

copyright Brian Small
Length: 10 in. (27 cm)
A specialist on Pinyon Pine seeds, the Pinyon Jay rarely wanders far from this habitat during the breeding season. It is almost always found in flocks, sometimes up to a hundred or more individuals. It also nests colonially, and the bulky platform nest is made of twigs and bark and lined with bark and hair. Young are fed insects, bird eggs and nestlings of other bird species. All summer long thousands of Pinyon Pine seeds are cached through out the forest and serve as a primary food source throughout the winter. In years of poor seed production, large flocks of Pinyon Jays wander widely to lower altitudes. The four-digit banding code is PIJA.
Female
copyright Jim Burns

Oak-pine woodland

Shrubs

Savanna
view small images | view large images | view zoomed images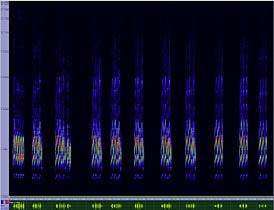 Male
Buzzing (sound type)
Bird Song