1999, September - October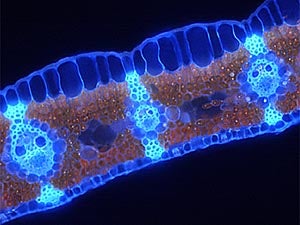 September/October 1999 Mystery Image
Hey, what a great two months of guessing! This image has brought the most guesses for the mystery image ever. Congratulations goes out to Chelsea from Desert Vista for the correct answer. There were also a lot of very close answers, which also came from the school posting the most guesses (Desert Vista). Great work to everyone. We also want to congratulate Tempe Preparatory Academy for submitting a lot of guesses.
This was a return visit for Gregory Johnson the photographer of this image.
... and what was it?
Would you believe that it is a cross section of Cyperus alternifolius (umbrella plant) with intense UV-induced blue-green and chlorophyll (red) fluorescence. The cells with intense red fluorescence are mesophyll cells, while the cells which are highly blue fluorescent are part of the leaf's vascular tissue (e.g. xylem and phloem).
Still not sure what all the parts are?
Mesophyll cells - these cells specialize in photosynthesis.
Xylem - is the transport system for water and minerals from the roots to the rest of the plant. The xylem is a non-living part of the plant.
Phloem - is made of living cells that transport sugar and other nutrients throughout the plant.
---
For those of you that are curious, here are some numbers from our list of guesses.
26% guessed that it was a cell membrane.
11% guessed that it was part of a plant leaf.
10% guessed that it was a worm.
8% guessed that it was a worm.
7% guessed that it was a cell.
6% guessed also guessed that is was a cell membrane, but were more specific and said a phospholipid bylayer.
6% guessed that it was a worm.
4% guessed that it was blood vessels.
2% guessed that it was brain tissue or neurons.
Some of the creative single answers are listed below.
The bloodstream of a frog.
Scorpion tail.
Giraffe nerve cell.
Intestine of a caterpillar.
Section of a spinal cord.
An MRI of an earthworm
A fish that lives at the bottom of the ocean.
Part of a jellyfish who just ate an alien that wanted to take over all the world's cheese factories. The aliens spacecraft crash landed in the sea because Useph, the alien's deceitful servant, purposely forgot to refuel and check the engine.
For our November/December Mystery image we challenge all you creative scientific folks to send us your best guess.
To download a computer wallpaper of this image, right click on this link or image and save it to your computer.