Life and Building E.T.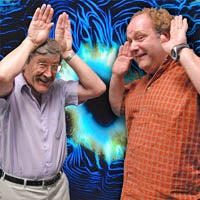 An interview with physicist Paul Davies and microbiologist Ferran Garcia-Pichel who talk about life, extremeophiles, and E.T. Listen in on this lively conversation and see if maybe, just maybe, we might have come from Mars.
Content Info | Transcript
---
MP3 download | 16MB
Topic
Time
Intro -
00:00
Life on Earth - defining what is living what is not living.
02:29
Defining life requires a flexible definition.
04:15
Three common characteristics used to define life.
05:28
Extremeophiles
06:45
What are some extremeophiles and where do they live?
08:45
Extreme heat - how hot can you get and still be able to live?
08:54
Extreme cold - how cold can you get and still be able to live?
10:19
Looking for extremeophiles
10:52
Extreme depth - how deep in underground can life be found?
11:23
How do you get energy if you are underground without life?
[phototrophs and chemotrophs]
12:09
Why search for extremeophiles on Earth?
13:44
Are there any living things on Earth that could survive on Mars?
16:21
Building E.T.
16:54
Life - E. T. on Europa [Paul Davies]
17:49
E.T. communication
18:57
Fire under water - what?
19:51
Probability of having an E. T. exist.
20:41
The most common and most likely E.T. would be microbes.
22:04
Ferran's E. T.
23:02
Could we be E.T.? Could we be Martins?
24:35
Why do some scientists think life came from space, maybe Mars?
26:14
When did you first know you wanted to be a scientist? [Paul Davies]
27:05
What would you be if you were not a scientist? [Paul Davies]
28:30
Ferran would be an actor - what type of an actor?
29:16
What advice do you have for someone wanting to be a scientist - physicist?
30:09
Sign-off
31:51
Life and Building E.T.
Audio editor: Charles Kazilek