Is There a Jaguar in My Backyard?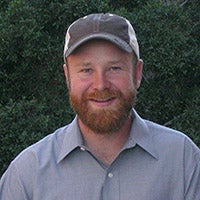 Dr. Biology learns some of the secrets behind the jaguar in the southwest. Could they be living here? Listen in as wildlife biologist Emil McCain talks about Jaguars and the research being done to protect their home.
Content Info | Transcript
---
MP3 download | 14MB
Topic
Time
Intro
00:00
Do we have Jaguars in our backyard?
01:38
How did we find out that Jaguars live in Arizona?
[hunters - conservation - classic Marlboro man.]
01:57
How can you tell the difference between jaguars and leopards?
03:06
Are jaguars the same size as leopards?
04:25
Do jaguars roar like a lion?
04:44
Borderlands Jaguar Detection Project.
05:13
How do you find or detect Jaguars? [remote cameras, traditional tracking methods]
06:18
When did you learn to track animals?
07:41
What do you look for when you are tracking an animal?
08:45
Close encounters with low tree branches.
09:40
How many remote cameras do you have?
10:17
How many pictures of jaguars have you taken and how many other species of animals have been captured on camera?
11:22
How many Jaguars do we have living in Arizona and how spot patterns of a jaguar are the same as our finger prints.
12:41
Do these Jaguars have names and which has been photographed the most?
13:36
Is there a concern about the effect of the cameras on wildlife?
14:30
What is like to be a wildlife biologist? [day in the life of a wildlife biologist]
16:06
Do you also use computer technology in your research?
17:15
How do the nature part of your work and your technical side blend?
17:50
What are cats up to when they seem to be sharpening their claws?
[scent marking]
18:59
What is the range - living area that a jaguar needs?
22:01
Three questions
When did you know you were going to be a biologist? Story of the old jaguar?
23:11
What would you do or be if you were not a biologist?
25.12
Advise for someone that wants to be biologist.
26.06
Sign-off
28:27
Is There a Jaguar in My Backyard?
Audio editor: Charles Kazilek