Mostrar/Ocultar palabras que debes conocer
Electroencefalograma: Grabación visual que muestra la actividad eléctrica del cerebro (EEG).
Emoción: cualquier elemento en la larga lista de sentimientos que una persona puede tener, como la alegría, la ira y el amor.
Trastorno: algo que no está en orden. No está dispuesto correctamente. En medicina, decimos que hay un trastorno cuando algo en el cuerpo no funciona correctamente.
¿Qué hace tu cerebro?
El cerebro tiene muchas partes diferentes. Asimismo, tiene áreas específicas que hacen ciertos tipos de tareas. Estas áreas se denominan lóbulos. Un lóbulo trabaja con tus ojos cuando miras una película. Hay un lóbulo que controla las piernas y los brazos al correr y patear una pelota de fútbol. Hay dos lóbulos que están involucrados con la lectura y la escritura. Los recuerdos de un evento favorito se mantienen en el mismo lóbulo que te ayuda en el examen de matemáticas. El cerebro controla todas estas cosas y mucho más.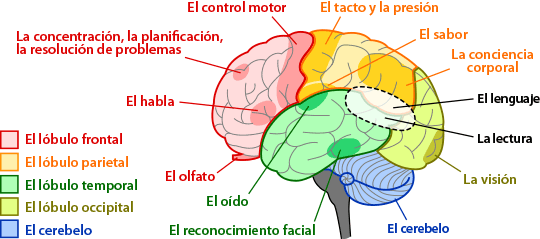 Trabajo del cerebro
El cerebro es un órgano muy ocupado. Es el centro de control del cuerpo. Dirige tus órganos, como el corazón y los pulmones. También está ocupado trabajando con otras partes del cuerpo. Todos tus sentidos, la vista, el olfato, el oído, el tacto y el gusto dependen de tu cerebro. La degustación de la comida con los sensores de tu lengua sólo es posible cuando las señales procedentes de las papilas gustativas se envían al cerebro. Una vez en el cerebro, las señales se decodifican. El sabor dulce de una naranja sólo es dulce si el cerebro te lo dice.
Lóbulo frontal

El movimiento del cuerpo
La personalidad
La concentración, la planificación, la resolución de problemas
El significado de las palabras
Las reacciones emocionales
El habla
El olfato

Lóbulo parietal

Touch and pressure
Taste
Body awareness

Lóbulo temporal

La recepción y el procesamiento de los sonidos
El reconociendo de los rostros
Las emociones
La memoria a largo plazo

Lóbulo occipital

Cerebelo

Latín para el cerebro posterior
El control motor (muscular) adecuado
El equilibrio y la coordinación (evitar los objetos y no caerse)

Lóbulo Límbico

Situado en el interior del cerebro
Controla emociones como la felicidad, la tristeza y el amor
Las ondas cerebrales
¿Cómo saber si el cerebro está funcionando? ¿Qué está haciendo y cómo se mide? El equipo de cabeza que parece salido de una película de ciencia ficción, en la imagen a la derecha, mide la actividad eléctrica del cerebro. Las ondas eléctricas se llaman ondas cerebrales.
Cuando las neuronas envían una señal, utilizan la corriente eléctrica para transmitir los mensajes hacia las otras neuronas cercanas. Cuando sólo una o dos neuronas están señalando, el cambio es demasiado pequeño para hacerse notar. Pero, cuando un gran grupo de neuronas está señalando a la vez, estas pueden ser grabadas y se miden con la ayuda de herramientas especiales.
La medición de la actividad eléctrica en el cerebro se realiza generalmente con electrodos. Los electrodos son dispositivos capaces de registrar los cambios eléctricos a través del tiempo. Se pegan a la superficie de la piel, en lugares específicos alrededor de la cabeza. Los registros de la actividad de las ondas cerebrales lucen como una serie de ondas. Se llaman electroencefalogramas, o EEGs para abreviar.
La medición de la actividad del cerebro puede ser una herramienta muy útil en los estudios científicos. También se puede usar para ayudar a identificar los trastornos del sueño y otras condiciones médicas relacionadas con el cerebro.

The first human electroencephalogram, record in 1824 by Hans Berger.
---
Crédito de animación computarizada: BodyParts3D, Copyright© 2010 El Centro de Base de Datos para las Ciencias de la Vida licenciado bajo CC Attribution-Share Alike 2.1 Japón.
Ver cita
Es posible que deba editar el nombre del autor para cumplir con los formatos de estilo, que suelen ser "Apellido, Nombre" subpage
Detalles bibliograficos:
Artículo: ¿Qué hace tu cerebro?
Autor: Brett Szymik
Traductor: Juliana Soler
Editor: Arizona State University School of Life Sciences Ask A Biologist
Nombre del sitio: ASU - Ask A Biologist
Fecha de publicación: May 31, 2017
Fecha accesada: October 22, 2021
Enlazar:

https://askabiologist.asu.edu/que_hace_tu_cerebro
---
APA Style
Brett Szymik. (2017, May 31). ¿Qué hace tu cerebro?, (Juliana Soler, Trans.). ASU - Ask A Biologist. Retrieved October 22, 2021 from https://askabiologist.asu.edu/que_hace_tu_cerebro
Chicago Manual of Style
Brett Szymik. "¿Qué hace tu cerebro?", Translated by Juliana Soler. ASU - Ask A Biologist. 31 May, 2017. https://askabiologist.asu.edu/que_hace_tu_cerebro
MLA 2017 Style
Brett Szymik. "¿Qué hace tu cerebro?", Trans. Juliana Soler. ASU - Ask A Biologist. 31 May 2017. ASU - Ask A Biologist, Web. 22 Oct 2021. https://askabiologist.asu.edu/que_hace_tu_cerebro
Be Part of
Ask A Biologist
By volunteering, or simply sending us feedback on the site. Scientists, teachers, writers, illustrators, and translators are all important to the program. If you are interested in helping with the website we have a Volunteers page to get the process started.

Contribute