Vleermuisvoedsel
toon/verberg woorden om te weten
Insectifoor: een dier dat vooral insecten eet.
Aan tafel!
Met meer dan duizend verschillende soorten vleermuizen is het niet zo gek dat ze veel verschillende dingen eten. Daarbij zijn ze geweldige jagers die het zachtste geluid of de kleinste beweging opmerken. Dus wat eten vleermuizen?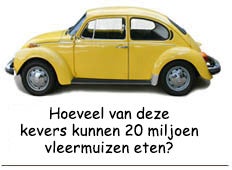 De soorten die dat doen jagen vooral op muggen, kevers en motjes. En daar eten ze er veel van. Wist je dat een kleine bruine vleermuis wel 1200 muggen per uur kan eten? Dat zijn een heleboel beestjes. Als er zoveel vleermuizen zouden zijn was muggenspray niet meer nodig.
Er zijn ook vleermuizen die liever fruit, zaden en stuifmeel van bloemen eten. Hun lievelingskostjes zijn vijgen, mango's, dadels en bananen. Sommige fruiteters drinken zelfs suikerwater dat bedoeld is voor het bijvoeren van kolibries.
Zijn er nog andere dingen die sommige vleermuizen eten? Jazeker. Sommige vleermuizen eten andere dieren, zoals vogels, vissen, kikkers, hagedissen en zelfs andere vleermuizen. Om het nog gekker te maken zijn er een paar soorten vleermuizen die bloed drinken. Zij worden vampiervleermuizen genoemd. Er zijn maar drie soorten daarvan en die leven allemaal in centraal en zuid Amerika. En geen zorgen – vampiervleermuizen drinken geen mensenbloed. Ze stelen vooral bloed van koeien, schapen en paarden. Om bij het bloed te komen maken ze een kleine snee in de huid wanneer een dier slaapt. Ze kunnen dan een beetje bloed oplikken. Vampiervleermuizen hebben maar ongeveer twee theelepels bloed per dag nodig. Dat is zo weinig dat hun "prooi" vaak niet eens wakker wordt als de vleermuis aan het drinken is.

Referenties:
Wilson, Don. 1997. Bats in Question. The Smithsonian Answer Book. Smithsonian Institution Press, Washington. 168p.