Check your heart rate
show/hide words to know
Artery: a tube-like part of the body used to carry blood away from the heart.
Pulse rate: the measured number of times an artery expands and contracts as blood is pumped by the heart.
Vein: a tube-like part of the body used to carry blood to the heart.
How to check your heart and pulse rate
In case you you didn't know it, your heart rate is measured by how many times your heart beats each minute. You can measure your heart rate by finding and counting your pulse rate. Because your arteries will expand and contract with each heart beat, your heart rate and pulse rate are the same.
If you want to test how exercise changes your heart rate you will need to learn how to take your pulse and calculate your heart rate. You can do this by either finding your pulse on your wrist or on your neck next to your windpipe. Once you find your pulse, you will need a watch or clock with a second hand.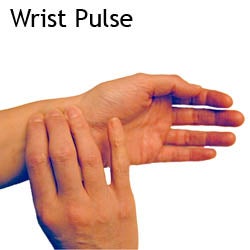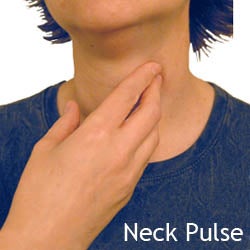 Find your pulse using either your wrist or neck by pressing lightly with your fingers until you feel the blood pulsing under your fingers. If you don't feel your pulse at first, move your fingers around in little movements until you find it.
Count the number of pulses you feel for 10 seconds. Write that number down on a sheet of paper.
Multiply the number of pulses you wrote on your paper by six to get your heart rate.
For example, if you count 15 pulses in 10 seconds you would multiply 15 X 6 and have a result of 90 (in 60 seconds).