Tersek
Tersek
---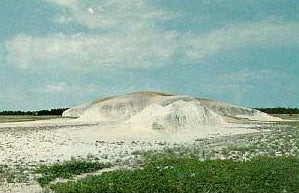 Tersek covers 6,700 ha of the zapovednik. The pines here grow as a long band, rather than in groups like Naurzum, and are surrounded by steppe.
The most interesting feature of Tersek is the large calcium carbonate islands near the forests. These islands are remnants of calcium carbonate deposits laid down when the oceans covered this area thousands of years ago. They are slowly being eroded by wind and water and are predicted to disappear altogether in the next 500 years. These massive islands are very colorful with numerous colors, from white to light purple and brick red. As evidence to the presence of the oceans,a geologic survey team discovered, several years ago, an ancient shark jaw bone on the forest floor!
Tersek also has rocky areas where a few short pine trees grow. This area is sometimes covered with creeping juniper (similar to the junipers found in Arizona, but with a low, creeping growth form). In contrast to Naurzum, Tersek forests are dense, and, along the western edge, trunks and branches of trees are so twisted and intertwined that it is not possible to walk through. Very often the pines are shaped as the letter "S" laying on its side. This is caused by an enormous mass of snow (12-15 ft), blown off the table-like plateau by fierce winter winds.