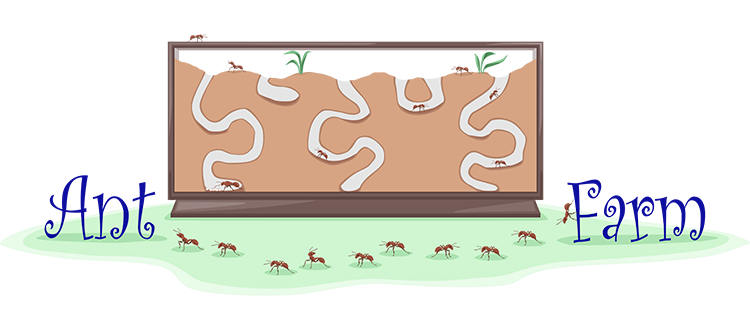 Written by:
Rebecca Clark
Illustrated by:
Sabine Deviche
show/hide words to know
What's an Ant Farm?
Farming... ants? Who ever heard of such a thing? Sure, humans farm corn and tomatoes, but ants! Other than chocolate-covered ants, ants don't seem like they would be good to eat!! So why do people create ant farms?
Well, have you ever watched ants going into and out of their nest, and wondered what was going on underground? It's pretty hard to find out from the surface. If you dig up the nest, the ants get pretty upset! So the simplest way to watch what ants do inside their nest is to trick them into thinking they're underground when they actually are not. You can do this by putting them in an ant farm.
Now don't get an ant farm mixed up with ants that farm. Believe it or not, there's actually a kind of ant that farms its own food, a type of mushroom. These are the leafcutter ants. Could you imagine having an ant farm of farming ants? Now that sounds complicated!
What Does it Take to Build Your Own Ant Farm?
Good ant farms have clear, flat sides with a thin layer of soil sandwiched in the middle, so the ants can dig tunnels in the soil. They should also contain space towards the top where the ants can search for food. Lastly, a good ant farm should be well-sealed to prevent ants from escaping, because they are extremely good escape artists. It's not fun to find ants in a place where they aren't supposed to be.
If you look around the Web you will see that ant farms come in many shapes and sizes. You can even buy an ant farm, but here at Ask A Biologist we have instructions for how to build a simple ant farm out of two Compact Disk (CD) cases that is very cool. It is easy to make, but if you are young you might need a parent or teacher to help.
While you are building your ant farm you might be thinking of some good ideas for ant science experiments, and other creative ways to build ant farms.
Got Ants?
Making an ant farm is fun, but before you get started building your own ant farm, you're probably wondering, how can you find and collect ants? Also, which ants should you look for to put in your new ant farm? We have all the information you need on these two things and even what to do with your new ant farm once you have it filled with ants.
Ant Experiments
This is when the real fun begins. You've got ants, and they're in an ant farm, so now what? How about trying some of our ant experiments? You might even have some experiments of your own that you would like to try.
View Citation
You may need to edit author's name to meet the style formats, which are in most cases "Last name, First name."
Bibliographic details:
Article: Ant Farm
Author(s): Rebecca Clark
Publisher: Arizona State University School of Life Sciences Ask A Biologist
Site name: ASU - Ask A Biologist
Date published: June 10, 2009
Date accessed: September 20, 2023
Link:

https://askabiologist.asu.edu/explore/ant-farm
---
APA Style
Rebecca Clark. (2009, June 10). Ant Farm. ASU - Ask A Biologist. Retrieved September 20, 2023 from https://askabiologist.asu.edu/explore/ant-farm
Chicago Manual of Style
Rebecca Clark. "Ant Farm". ASU - Ask A Biologist. 10 June, 2009. https://askabiologist.asu.edu/explore/ant-farm
MLA 2017 Style
Rebecca Clark. "Ant Farm". ASU - Ask A Biologist. 10 Jun 2009. ASU - Ask A Biologist, Web. 20 Sep 2023. https://askabiologist.asu.edu/explore/ant-farm
Learn about the lives of ants.
Be Part of
Ask A Biologist
By volunteering, or simply sending us feedback on the site. Scientists, teachers, writers, illustrators, and translators are all important to the program. If you are interested in helping with the website we have a Volunteers page to get the process started.

Contribute