Going Back to Gravity
show/hide words to know
Astronaut: a man or woman whose job it is to fly in space. Astronauts are usually really good at math and science, and aren't scared of sitting on top of rockets.
Gravity: the attraction of one body to another. Gravity gives objects weight and causes them to fall to the ground if dropped... more
Going Back to Gravity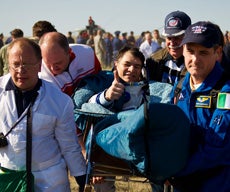 With all the changes that an astronaut's body experiences in space, it's surprising they can get used to their new conditions so quickly. Luckily, the body is also good at adjusting to life back on Earth.
Once an astronaut returns to Earth, gravity immediately starts to affect their bodies again. Though they may need to be carried off the ship, pretty soon everything starts to get back to normal.
Blood and fluids soon move normally around the body, and with training and practice, the astronauts will regain their muscle and bone strength before too long. Though they can't tumble through the air as freely here on Earth, we can imagine that the familiar force of gravity must feel pretty good.