Mega Muscles
show/hide words to know
Astronaut: a man or woman whose job it is to fly in space. Astronauts are usually really good at math and science, and aren't scared of sitting on top of rockets.
Mega muscles?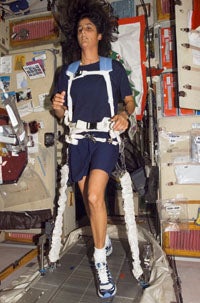 You might think an astronaut's muscles get bigger while in space, since they can hold up a co-worker with one finger. But what looks like super strength is actually due to the weightlessness that occurs without gravity. Because everything floats, muscles don't have to work as hard. While this might be fun at first, when muscles don't have to work, they shrink.
Without exercise, astronauts in space get weaker and weaker. Their legs get thinner from muscle loss until they get what are called "chicken legs." If they stay in space long enough and their muscles get weak enough, they won't be able to stand up when they get back to Earth.
Blood movement and muscles aren't the only things that are affected by living in space. Bones become weaker when they aren't used a lot, and our sense of balance gets a little wacky too.