Scorpion Mouth
show/hide words to know
Arthropod: animals that typically have hard segmented outer shells that work as a skeleton (exoskeleton). This includes spiders and insects as well as other animals... more
Pincer: the grabbing mouth parts of an arthropod such as an ant... more
Telson: the end of the tail of an arthropod such as lobsters, millipedes, and scorpions.
Scorpion Mouth
Just one look at the mouth of a scorpion makes you glad to know you are not one of its favorite foods. With their pincers any prey that is caught will be quickly pulled apart and prepared to eat. The whole process is one that has been descibed by author Conrad Storad. You can read about it below, or have Conrad read it to you by playing the audio below the text.
Sticky Stew
These animals are fierce hunters. They will attack anybody, including their brothers and sisters. In fact, other than insects, this animal's favorite food is one of its own species. When they are hungry, they will find a place on the ground or a tree to sit. Then they wait. The animal stays perfectly still. It might wait for hours, until an animal like a cricket comes close enough to touch. Then, faster than you can blink your eye, it grabs the cricket with its strong pincers. It holds on, while its tail swoops down like a whip.
The telson stings the unlucky cricket again and again and again. The cricket can't move. Now, the animal can take its time tearing the cricket into small pieces. It breaks each piece into tiny bits with its pincers and jaws. When the pile of bits is big enough, it spits strong juices from its mouth onto the pieces. The juices melt the pieces into a sticky stew. When the stew is gooey enough, it drinks until all of the cricket is gone.

- or play without flash here.
You can listen to more of Conrad Storard and biologist Michael Quinlin talk about scropions in the Ask A Biologist podcast - Stringing Mystery.
Scorpion Mouth Up Close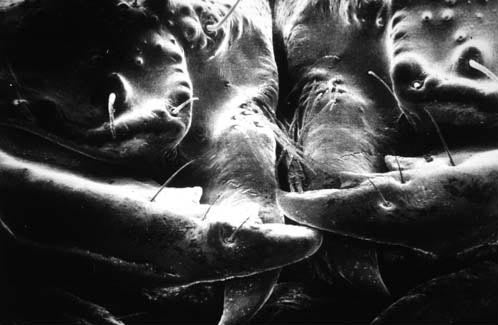 ---
Credits: Death Stalker scorpion with cricket from http://deathstalkerscorpion.weebly.com/. Published under Creative Commons.