Returning to University
show/hide words to know
Academia: a term used to describe scholars and students who are engaged in higher education and research, generally at colleges and universities.
Getting a Graduate Degree in Biology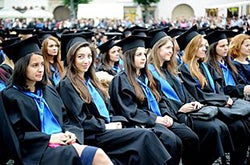 Some students continue biology studies by starting a master's or Ph.D. program in biology. These programs, called graduate programs, differ from undergraduate biology programs because they are usually much more specific. Students in graduate programs, or graduate students, find one topic that is very interesting, and spend many years doing research and taking classes to help learn about that particular part of biology.
A student might continue the work she or he found interesting in their undergraduate studies. Others will find a new field of biology to study. In each case, the student will work closely with a biologist who is already an expert in that field, in hopes that she or he will become an expert too.
Many of the students that pursue graduate degrees are interested in becoming professors or researchers at a university. So, if you want to continue working as a biologist in academia, what degrees do you need?
Do You Need a Master's Degree in Biology?
Some graduate students may go to school to get a master's degree. A master's program usually takes 2 to 3 years. He or she will find a particular scientific question, and study this question in great detail. When a person can show that he or she has mastered a particular subject area, they are awarded a master's degree.
Biologists who go to school for their master's degree have many career options. Some will become lab managers. They continue to work for a professor in the biology field, and assist her or him with experiments. This may mean planning experiments, collecting and analyzing data, or working with other biology students.
Other biologists with master's degrees may work at smaller universities, usually called junior colleges. Here they could teach classes related to the special training from their master's degrees. Master's degrees are also often used in government or industry jobs.
Do You Need a Doctor of Philosophy (Ph.D.) in Biology?
Some people continue their school training to get their Ph.D., or Doctor of Philosophy. A Ph.D. program usually takes 4 to 8 years, depending on the type of study. Similar to a master's program, students in a Ph.D. program will study a particular area of biology. However, they will spend much more time studying this particular topic. This will allow her or him to dig much deeper into that specific field and to better understand the questions she or he is investigating. When a person finishes a Ph.D., she or he becomes a doctor of biology. This is quite different from a medical doctor.
Biologists with a Ph.D. in biology can do many things, including working for governmental organizations, non-governmental organizations, and industry. They can also do many of the jobs that graduates with Master's degrees can do.
A new option available to them is to become a professor at a university and teach students about biology. This teaching can involve working with students in a classroom setting. It can also include training new graduate students to become experts. He or she will do research, and students will assist in this work.
To explore some of the career options available outside of academia, check out the Beyond the University page.
---
Library Image via Dr. Marcus Gossler.