Bird Details
Perching

Rufous-winged Sparrow
Aimophila carpalis

copyright Robert Shantz
Length: 6 in. (15 cm)
This sparrow is a resident of arid grasslands with a mixture of low bushes and mesquites. Its food includes insects, seeds, and grass shoots. The nest is located low in a dense cactus or bush and made of grass and twigs. Breeding season is initiated by unpredictable summer rains. Sometimes it joins small flocks of Black-throated, Chipping and Brewer's Sparrows in the winter. The four-digit banding code is RWSP.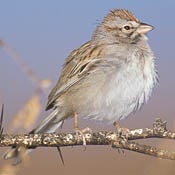 Female
copyright Herbert Clarke

Desert

Mesquite bosque
view small images | view large images | view zoomed images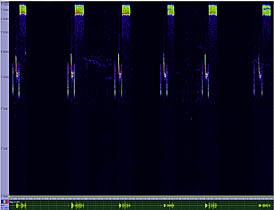 Male
Chirping (sound type)
Bird Call


Male
Chirping (sound type)
Bird Call