Bird Details
Owls

Ferruginous Pygmy-Owl
Glaucidium brasilianus

copyright Oliver Niehuis
Length: 7 in. (17 cm)
Primarily active during the daytime, this tiny owl hunts for large insects, lizards, small birds and mammals from open perches in lower deserts and riparian areas. The nest is in a tree cavity or abandoned woodpecker hole. The population in Arizona is estimated to have no more than 30 individuals. These owls, their habitat and nests should not be disturbed for any reason. The south Texas population as well as those in Mexico and south into Brazil are apparently more secure. The four-digit banding code is FEPO.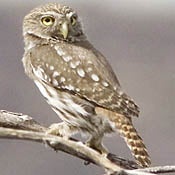 Male
copyright Oliver Niehuis

Desert

Riparian / River forest

Mesquite bosque
view small images | view large images | view zoomed images

Male
Hooting (sound type)
Bird Call