Bird Details
Upland Ground

Greater Roadrunner
Geococcyx californianus

copyright Herbert Clarke
Length: 23 in. (58 cm)
This famous cartoon character is even more intriguing in life. It lives on the desert floor, agricultural fields and open pine forests. Occasionally it will sit in the top of a bush to sing its courtship song. On cold desert mornings, the Roadrunner warms itself up by raising its back feathers, exposing the black skin under them, and absorbing the sun's energy efficiently. Its foot print in the dust is distinctive with two toes forward and two back to form an "X." This cuckoo relative eats insects, lizards, baby quail, mice, snakes and occasionally fruits. Its stick nest is located low in a dense bush or clusters of cacti. The four-digit banding code is GRRO.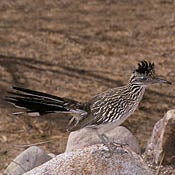 Male
copyright Herbert Clarke

Chaparral

Desert

Shrubs

Urban city

Agricultural

Savanna

Mesquite bosque
view small images | view large images | view zoomed images

Male
Buzzing (sound type)
Bird Call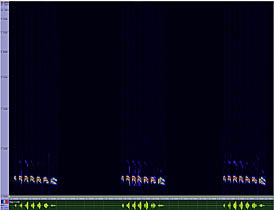 Male
Buzzing (sound type)
Bird Call