Bird Details
Perching

Golden-crowned Kinglet
Regulus satrapa

copyright Scott Streit
Length: 4 in. (10 cm)
Common in mixed species foraging flocks in deciduous and coniferous forests, this kinglet eats insects, spiders gleaned from bark and leaves, and in the fall it eats some fruits. The Golden-crowned Kinglet is very active and constantly flicks its wings. The small nest hangs from a branch high in a conifer and is made of moss, lichens and spider webbing. The four-digit banding code is GCKI.

Fir forest
view small images | view large images | view zoomed images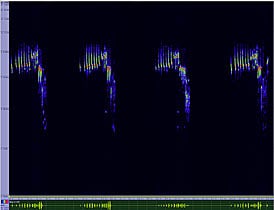 Male
Twittering (sound type)
Bird Song


Male
Twittering (sound type)
Bird Call