Bird Details
Perching

Vesper Sparrow
Pooecetes gramineus

copyright Brian Small
Length: 6 in. (16 cm)
Commonly winters in small flocks of mixed sparrow species in open fields, grasslands, and prairies where it runs across the ground searching for seeds. During the breeding season, it is more solitary in similar open habitats where it eats seeds and insects. The nest is a cup-like depression dug into the ground lined with grass and usually placed under a concealing clump of grass or short vegetation. To fool intruders close to the nest, the female will spread its tail and drag a wing or leg feigning injury and lead the enemy away from the young or eggs. The four-digit banding code is VESP.

Desert

Grasslands

Agricultural

Savanna
view small images | view large images | view zoomed images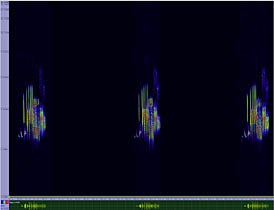 Male
Twittering (sound type)
Bird Call


Male
Twittering (sound type)
Bird Call