Bird Details
Perching

Olive-sided Flycatcher
Contopus cooperi

copyright Brian Small
Length: 8 in. (19 cm)
A conspicuous summer resident and migrant, this flycatcher chooses the most conspicuous dead spar or exposed branch on which to perch. From here it surveys the air space around it and flies out to capture flying insects from the air. It nests in coniferous forests and places its lichen-covered cup- nest far out on the end of a horizontal branch. Adults can be very aggressive toward intruders that approach the nest. The Olive-sided Flycatcher winters primarily in South America. The four-digit banding code is OSFL.
Female
copyright Robert Shantz

Fir forest

Oak-pine woodland
view small images | view large images | view zoomed images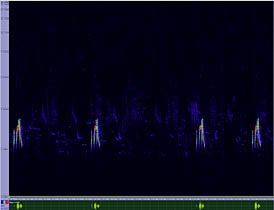 Male
Buzzing (sound type)
Bird Song


Male
Buzzing (sound type)
Bird Song